Light Your Marketing On Fire!
Your Sales People Will LOVE You!!
Your Profits Will Soar!!!
.
Market To Any Category. Any Vertical.
National, Regional, Local
We do not charge "per transfer" – Instead we charge "per minute".  You will agree "A much better value".
For instance, we had a brand new client start a campaign for Student Debt.
Day ONE they spent $77 and received 125 calls, which resulted in 3 calls of approximately 15 minutes each – very interested prospects… *
We charge 3.5 cents per minute.  $1000 initial order get you full credit – 28,571 minutes – no setup charges.
Local campaigns are billed at 10 (ten) cents per minute.
You will receive your own dashboard to login and start or stop your campaign any time you want.
Initial calling data, scrubbed against the DNC, is included in the package at no additional charge – FREE!!!  All you pay for are the actual minutes of phone time being used – either initial calls or while they are talking to your agents.  Yes, you can use your own, custom lists – we will scrub it against the dnc.
Initial outbound script to get them to press 1 are also included.  Yes, custom scripts are able to be uploaded and used in your dashboard.
* PS:  That initial Student Debt client is now up to their third $1500 order…  Our system is now his main marketing method.
---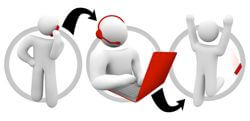 We DO NOT accept credit cards or paypal for this service.  We accept bank wire, walk into any Bank of America to make a direct deposit, or bitcoin (Coinbase).  Email us for bank details.
Press 1 Transfer Campaign
28,571 Minutes
Press 1 Transfer Campaign

28,571 Minutes of Total Phone Time
Web Access To Your Dashboard
No Setup Fee
Includes List To Dial