Business Analytics With A Company Data Lake
Are You Able Hear What Your Data Is Saying (Or Screaming)?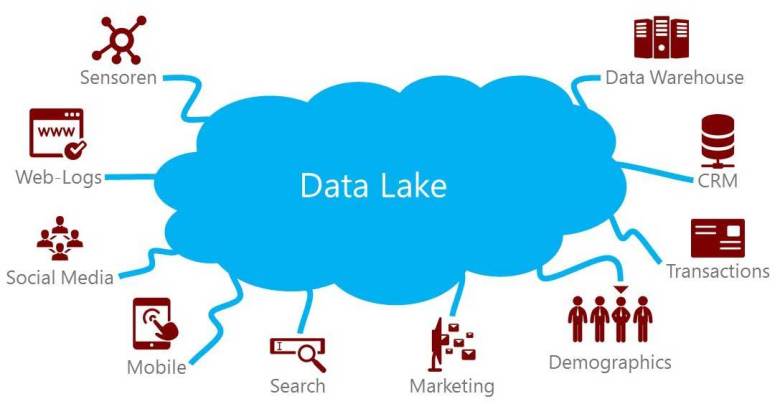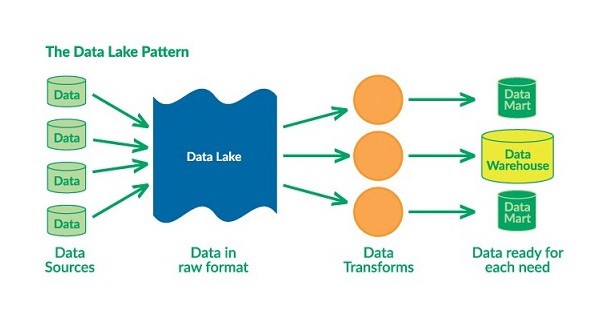 DEFINITION OF DATA LAKE: A data lake is a storage repository that holds a vast amount of raw data in its native format until it is needed. While a hierarchical data warehouse stores data in files or folders, a data lake uses a flat architecture to store data. Each data element in a lake is assigned a unique identifier and tagged with a set of extended metadata tags. When a business question arises, the data lake can be queried for relevant data, and that smaller set of data can then be analyzed to help answer the question.
Apply today's technology to company assets so you can see everything happen in your business; as close to real time as you want to make it…
For many of us, we started with a list. Just something we could use to extend our reach and make some sales. Eventually, the list became lists and perhaps, a database…
As we grow, the lists grow with us and become something much more. Contact lists and databases…demographic information…personnel files; everything a business can collect about clients and contacts and workers.
Sometimes a business will foresee it's own rapid growth and start with a structured data warehouse. Often we just keep collecting and collecting data until it seems impossible to handle. We know there is value in all of that information. We are getting bombarded on television and online with so many offers for insightful analytics; AI and machine learning and big data. Most importantly, there are many solutions for this and most of them require highly paid programmers and data scientists.
At List57, we have simple ways for handling and analyzing large data-sets. We offer a plug and play type of interface that business owners and non-geeky employees can use to find answers and create reports. Options include traditional data warehouse storage with it's structured development and super fast queries. Additionally, a data lake option wherein EVERYTHING is housed in one area and complex high speed processes create the organizational structure. 
You may be asking yourself…do I really need this right now??
According to industry statistics, and maybe your own experience, the answer is definitely yes. The size of an average companies data is almost double on itself every year!! Some of our lists are a terabyte which take as much as 15 minutes of computer processing time to cut a list from…the old way! We have cut that time to a few seconds by using products available right now. Many of them are free to use if you have a server to run them on.
Activities such as cutting a list or merging or scrubbing are known as data prep or pre-processing. For many of us, the real process will be to make offers to our contacts and judge the results by the bottom line; "How much money did we make off that list?"
Now, methods are available,for instance, to analyze the results of a campaign and AUTOMATICALLY re-market within a website and across social media.
What was once a one-off process can now be repeated and improved indefinitely. A push of a button can continue to sell for a month…or a year or more!
The key to all of this is speed and power. Before, we could not approach top technologies without lots of money. Now, high speed and powerful analytics are affordable. We can start small and become huge on one platform.
It will require correct analytics and automation tools to enable your business survive, and thrive, in the 2020's and beyond.
Here Are 11 Ways Your Business Will Benefit With Insightful Analytics
hidden accordion block
this is the hidden accordion block – in advanced custom css->main the code should be display: none;
Real time exploration of lists or data requires standardization
Data lakes that were populated with no attention to data quality
Data with high potential of anomaly; e.g., weight could be recorded in ounces, pounds, grams, kilograms and more
Where context is important; e.g., location data could be London, England or London, Ontario
Data with a wide distribution of values; e.g., budget distribution or product type distribution
Data with gaps, peaks, and outliers; e.g., an outlier year of 2107
On-boarding new client data
Do you have a lot of unknown datasets, such as third party data and form-fills?
Onboarding and blending 2nd or 3rd party data with 1st party data.
Curating external sources of data to create a data product
Application migration or application integration
Data quality and validation of free form text fields. eg: address cleanup for marketing campaigns
Inaccurate Lists/Data can jeopardize your reputation or revenue
Full body of data needed to ensure accuracy eg: financial crimes, compliance or clinical trials
Data is your product. eg: information marketing, information as a service, or product catalogs.
Is Goverance a key piece of your data preparation and reporting?
Weekly Sales and marketing reports
Executive dashboards
Evidence-based medicine
Compliance reporting, such as anti-money laundering
Is Versioning and having a snapshot of your data prep projects and dataset critical?
Regulatory and audit-heavy programs
Data quality monitoring
Single source to multi-source progression of data blending
Daily / Weekly / Quarterly reporting
Are you operating in multi-region, multi-department, or multi-client environment?
Marketing Operations accessing sales and support tenants for insights
Hybrid cloud and on-premises environments to segregate sensitive and non-sensitive data
All individuals across various platforms accessing a common view
Do you have a mulit-cloud strategy?
Regional / localized cloud services
Choosing the right cloud infastructure provider for right applications and workload
Do you have a variety of stakeholders who want to participate in data preparation projects?
Cross-team projects. eg: sales, support and marketing
Data preparation projects with large groups of analysts
Real time business and IT collaborations
Information as a service projects and exchanges between a vendor who is preparing data for its clients
Which of these 7 executive level dashboards will you start with?
Executive
Finance
Marketing
Operations & Safety
HR
Specialized
Strategy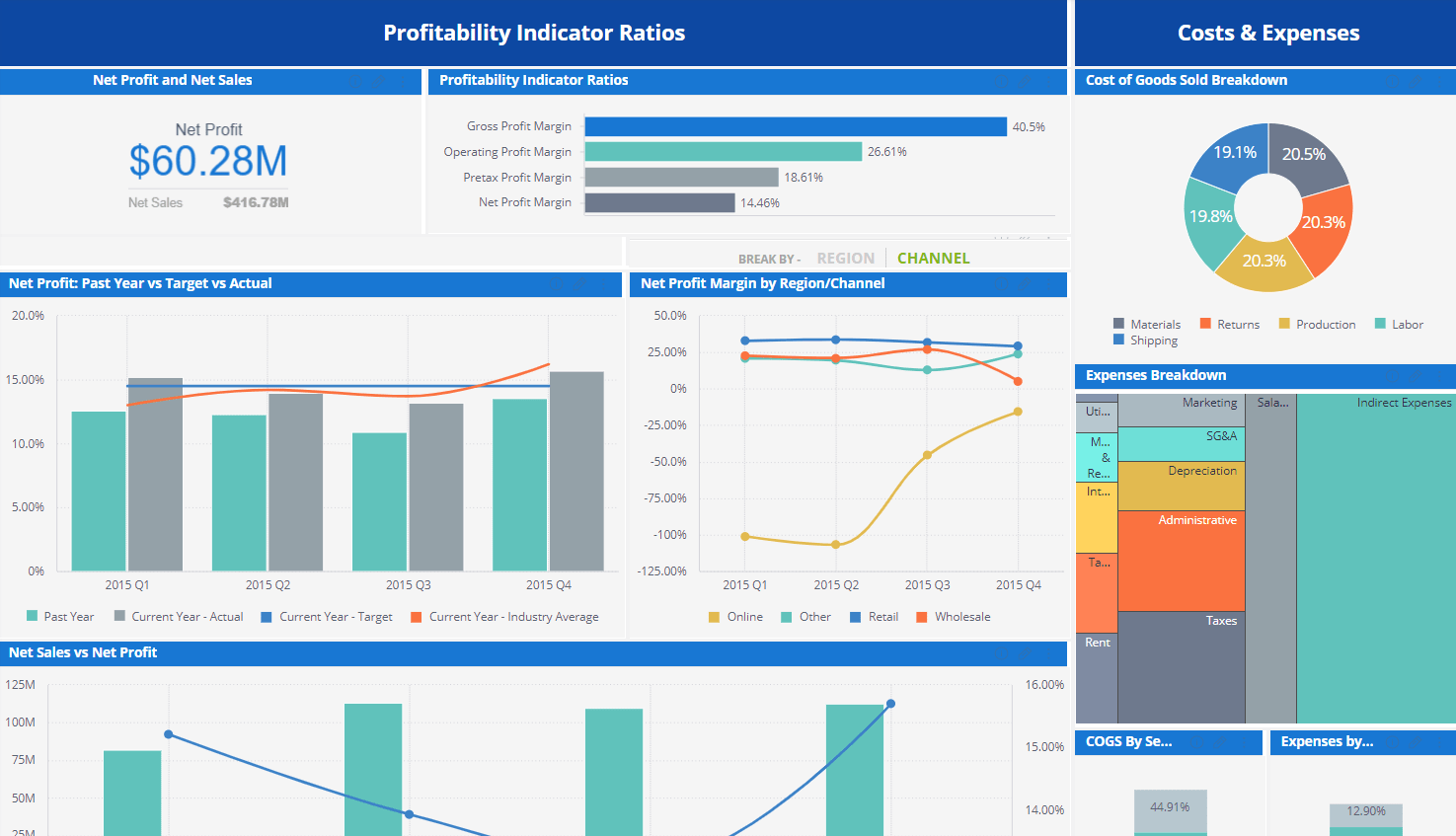 Suddenly, everyone who is looking at the company data is looking at the SAME TRUTH.  Now there are not infinite variables that people tend to insert from their own perspective.  Now everyone has THE SAME perspective.  The same set of truth to work from.  You can give any department or team in the company, their own, specific sets of results from the lake, to do their tasks more efficiently, armed with specific, correct information.
This "true truth" enables your team to make decisions guided by facts, instead of guesses, hunches or opinions.
Request for more information…
Please let us know what we can do to fulfill your needs and further your plans.