All 14 Million USA Businesses Complete Database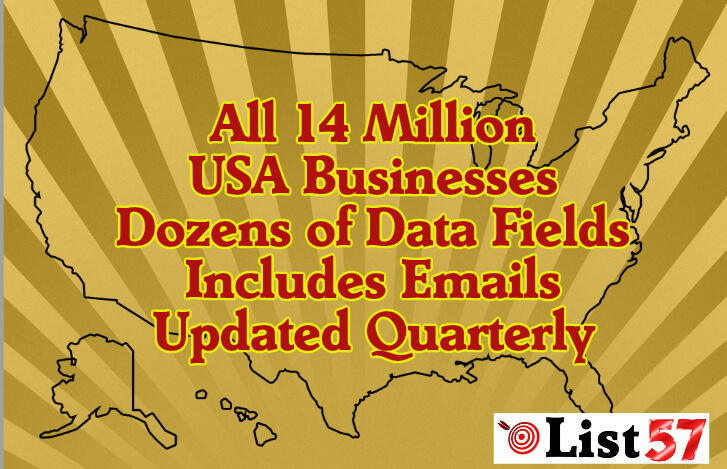 Put Your Marketing Into Overdrive With This Incredibly Detailed,
Currently Updated USA Business List
STOP paying for small "slices" of this list.  Now you can buy THE WHOLE THING!!!
Updated Quarterly – You will receive the most current edition.
Unlimited Use
The Very Latest Edition: Regular Price – $1997 / On Sale Now Only $1197
Contact us here for details on purchasing this Complete USA Business Database.
USA Business Database Complete, All Data Fields
"NAME","MAILING ADDRESS","MAILING CITY","MAILING STATE","MAILING ZIP","AREA CODE AND PHONE","FAX","SALES VOLUME","NUMBER OF EMPLOYEES","CONTACT FIRST1″,"CONTACT LAST1″,"CONTACT TITLE1″,"CONTACT PROFESSIONAL SUFFIX1″,"CONTACT1″,"CONTACT FIRST2″,"CONTACT LAST2″,"CONTACT TITLE2″,"CONTACT PROFESSIONAL SUFFIX2″,"CONTACT2″,"SIC CODE1″,"SIC NAME1″,"PHONE AREA CODE","PHONE NUMBER WITHOUT AREA CODE","FAX AREA CODE","PUBLIC/PRIVATE COMPANY","LOCATION TYPE","FIRM/INDIVIDUAL","CREDIT SCORE CODE","LATITUDE","LONGITUDE","MATCH LEVEL","PARENT COMPANY","PARENT COMPANY LOCATION","SUBSIDIARY COMPANY","SUBSIDIARY COMPANY LOCATION","SUBSIDIARY COMPANY INFOUSA ID NUMBER","STOCK EXCHANGE","STOCK TICKER SYMBOL","NUMBER OF PCS USED","SQUARE FOOTAGE","WEB ADDRESS","YEARS IN DATABASE","LOCATION ADDRESS","LOCATION CSZ","LOCATION CITY","LOCATION STATE","LOCATION ZIP","LOCATION ZIP5″,"LOCATION ZIP4″,"LOCATION CARRIER ROUTE","MAILING CSZ","MAILING ZIP5″,"MAILING ZIP4″,"MAILING CARRIER ROUTE","LANDMARK ADDRESS","LANDMARK CSZ","LANDMARK CITY","LANDMARK STATE","LANDMARK ZIP","LANDMARK ZIP5″,"LANDMARK ZIP4″,"LANDMARK CARRIER ROUTE","COUNTY","CONTACT GENDER1″,"CONTACT GENDER2″,"CONTACT3″,"CONTACT FIRST3″,"CONTACT LAST3″,"CONTACT GENDER3″,"CONTACT PROFESSIONAL SUFFIX3″,"CONTACT TITLE3″,"CONTACT4″,"CONTACT FIRST4″,"CONTACT LAST4″,"CONTACT GENDER4″,"CONTACT PROFESSIONAL SUFFIX4″,"CONTACT TITLE4″,"CONTACT5″,"CONTACT FIRST5″,"CONTACT LAST5″,"CONTACT GENDER5″,"CONTACT PROFESSIONAL SUFFIX5″,"CONTACT TITLE5″,"CONTACT6″,"CONTACT FIRST6″,"CONTACT LAST6″,"CONTACT GENDER6″,"CONTACT PROFESSIONAL SUFFIX6″,"CONTACT TITLE6″,"CONTACT7″,"CONTACT FIRST7″,"CONTACT LAST7″,"CONTACT GENDER7″,"CONTACT PROFESSIONAL SUFFIX7″,"CONTACT TITLE7″,"CONTACT8″,"CONTACT FIRST8″,"CONTACT LAST8″,"CONTACT GENDER8″,"CONTACT PROFESSIONAL SUFFIX8″,"CONTACT TITLE8″,"CONTACT9″,"CONTACT FIRST9″,"CONTACT LAST9″,"CONTACT GENDER9″,"CONTACT PROFESSIONAL SUFFIX9″,"CONTACT TITLE9″,"CONTACT10″,"CONTACT FIRST10″,"CONTACT LAST10″,"CONTACT GENDER10″,"CONTACT PROFESSIONAL SUFFIX10″,"CONTACT TITLE10″,"NAICS CODE","NAICS DESCRIPTION","AD SIZE NAME1″,"YEARS IN DATABASE1″,"FRANCHISE CODE 1 1″,"FRANCHISE CODE 1 2″,"FRANCHISE CODE 1 3″,"FRANCHISE CODE 1 4″,"FRANCHISE CODE 1 5″,"SIC CODE2″,"SIC NAME2″,"AD SIZE NAME2″,"YEARS IN DATABASE2″,"SIC CODE3″,"SIC NAME3″,"AD SIZE NAME3″,"YEARS IN DATABASE3″,"SIC CODE4″,"SIC NAME4″,"AD SIZE NAME4″,"YEARS IN DATABASE4″,"SIC CODE5″,"SIC NAME5″,"AD SIZE NAME5″,"YEARS IN DATABASE5″,"OWNER","PRESIDENT","MANAGER","EXECUTIVE DIRECTOR","PRINCIPAL","PUBLISHER/EDITOR","ADMINISTRATOR","RELIGIOUS LEADER","PARTNER","CHAIRMAN","CO-CHAIRMAN/VICE CHAIRMAN","CHIEF EXECUTIVE OFFICER","BOARD MEMBER","CHIEF OPERATING OFFICER","CHIEF FINANCIAL OFFICER","TREASURER","CONTROLLER","EXECUTIVE VICE PRESIDENT","SENIOR VICE PRESIDENT","VICE PRESIDENT","ADMINISTRATION EXECUTIVE","CORPORATE COMMUNICATIONS EXECUTIVE","IT EXECUTIVE","FINANCE EXECUTIVE","HUMAN RESOURCES ","EXECUTIVE","TELECOMMUNICATIONS EXECUTIVE","MARKETING EXECUTIVE","OPERATIONS EXECUTIVE","SALES EXECUTIVE","CORPORATE SECRETARY","LEGAL","EXECUTIVE OFFICER","MANUFACTURING EXECUTIVE","PURCHASING EXECUTIVE","AUDITOR","INFORMATION TECHNOLOGY","FINANCE","CHIEF ADMINISTRATIVE OFFICER","CHIEF MARKETING OFFICER","BUSINESS DEVELOPMENT","DIRECTOR","EXECUTIVE","MANUFACTURING","INTERNATIONAL","FACILITIES","SALES","EDUCATOR","ENGINEERING/TECHNICAL","GENERAL MANAGER","OFFICE MANAGER","CIO/CTO","OPERATIONS","MARKETING","OTHER","HUMAN RESOURCES","SITE MANAGER","REGIONAL MANAGER","NOTES",