Ordering
We have a wide variety of lists and services. The ways an order can be processed and served is equally variable. There are so many different types of lists and list applications that we may not cover them all on this page. Most of the time transactions happen with just a few variations and that is what we will cover here.
We believe that finding the best list for your specific needs is the hardest part. It is obvious that a good choice of lists will make all the rest of the arrangements seem a small price to pay for success. With this in mind, we do the utmost to make sure you have the right product. Once you have your eye on what you want, it's time to check out.
Checking Out
Using our shopping cart is the easiest way to check out and pay. Click on the buy box or add to cart button and you will be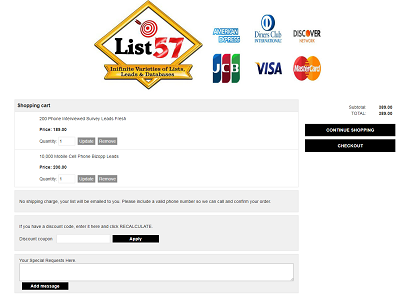 directed to the cart page. Our shopping cart accepts all major credit and debit cards and Skrill; a secure online e-wallet application. The continue shopping button will send you back to our site. Items can be added or removed and the cart will keep track of them as you move about our website. There are places to add messages or coupon codes. Once you have what you need, click the checkout button and you will be directed to a secure form for completing the payment.
Email combined with a number of payment processes and delivery alternatives is the second way to transact business with List57. Our request free quote or contact us buttons deliver your message right to our inbox. We fulfill your order depending on your needs expressed in the message. You may see a green check-mark with the message "certified payments only" on larger lists. Click on one of those and you will be directed towards a page that explains the process then directs you to a request free quote form. The form helps us by focusing your order or query into standard terms and products we recognize so we can complete the transaction. On these types of deals, it is normal for many email messages to play back and forth until the details are completely understood by both sides.
CERTIFIED FUNDS
We accept wire transfers and zelle transfers here.
CREDIT CARDS
Our shopping cart accepts Visa, Mastercard, American Express (Amex), Discover, JCB and Diners Club International. For email transactions, we will direct you to the appropriate sell page or send a customized link that goes directly to a shopping cart page with your item included.
SKRILL
Skrill is similar to PayPal. You create a free account and fund it with a Credit Card; Bank Account; PayPal or Other Skrill Account Transfer.  Once you have funds in your Skrill account, you can instantly transfer them to us.  Visit www.Skrill.com to set up a free account.
BITCOIN AND CRYPTO
We will email you a bitcoin address to send funds to.  In the USA, our main access to buying bitcoin is thru CoinBase.com – visit them here.
BANK OF AMERICA or CHASE BANK
Send us a wire transfer (same day) or an Automated Clearing House (ACH) Transfer (next day or 3), or walk in to any branch. Visit your bank or their official website or use our request free quote or contact us buttons to find out more.
MONEYGRAM or WESTERN UNION
Contact us for current details to transfer with this method.
BARTER and TRADE
Please be creative. We are open to all suggestions. Contact us with your ideas here.
GOLD and SILVER
Gold and silver are valued at the spot price for the day. Please Contact us to make the arrangements.
Verify Identity After Placing Your Order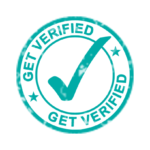 After placing your order, you will receive an email confirming your purchase and asking for further verification. For credit card orders we require images of your  card and id to affirm your authority to place a charge. We delete the images once the payment and delivery process has completed. We apologize for the inconvenience this causes. However, we could find no better method to prove the person using your credit card is you.
Delivering Your List
Once a list is purchased, we send you an email with a link to our secure download portal where you can receive your list. The shopping cart sends us an email with your email address attached if you purchase through our cart. That is the address we send your link to. If prior arrangements have been made we will act in accordance of those guidelines. There are mentions of other methods for delivery throughout our site. Those are rarely done. Normally, we send you an email with a link to our secure download site.
A steady point of conflict has always been the time it takes to fulfill your order. It is confusing when real-time and fresh lists take a long time while the aged lists are sometimes set up for download in a few minutes. Also, we take weekends off so that can cause latency in the program. The main problem lies in how our lists are collected…
Delivery Times: Aged vs Fresh
Our aged lists are usually sitting on our server, ready to be placed in the download portal at a moments notice. Conversely, we get our fresh lists in chunks and bundles in pre-set time periods. When we receive an order for a 1st position list, we set up a moment when we can pick the right sized chunk off an opt-in stream and make it available to you ASAP. If the moment doesn't coincide with one of our regular delivery times from suppliers, we may have to wait a day or two or set up a special delivery. What is most paradoxical is: the more urgent a list is makes it take more organization and timing. For this reason we recommend using off-the shelf aged lists for urgent needs or testing and starting the process early if you need fresh contacts.
We have been in the list biz for a long time and we understand your plight. You need action NOW and that is why you contacted us. Rest assured we are doing everything we can to mitigate delay and deliver your purchases on time. We constantly work towards improving our lists and delivery methods. As the great designer Raymond Loewy wrote: "If you make a good product, keep to your word and deliver on time you will always have work."